---
SHADOW CODEX selected in the International Festival Signs of the Night
Short film Shadow Codex has been selected to compete in the 20th International Festival Signs of the Night. The festival will take place in October, 1.-10.10.2022, in Paris, France.
---
Short film SHADOW CODEX screened in Rencontres Internationals Berlin
The Rencontres internationales festival will be held in Berlin in August, 16.-21.8.2022, at the Hous der Kulturen der Welt. Filmed at the abandoned facilities of Turku County Prison (1835–2007), Shadow Codex documents the layers of messages drawn, burned and scratched on cell walls. 
---
SHADOW CODEX competing in International Film Festival Signes de Nuit in Bangkok, Thailand
Experimental short film Shadow Codex is selected in the international competition "Cinema In Transgression" at the 20th International Film Festival Signes de Nuit, in Bangkok on 23 – 31.7.2022. The program is screened on Sunday 24th of July at Thai Film Archive.
---
Codex Ekström: short films by Saara Ekström at Arthouse Cinema Niagara in Tampere, Finland
Film club Monroe presents in collaboration with AV-arkki a selection of Saara Ekström's experimental cinematic works at Arthouse Cinema Niagara on Wednesday 20.7.2022. Ekström, working in the borderland of video and film art, is one of the leading names in Finnish visual art, whose work has been exhibited at numerous festivals, in museums and galleries. In recent years she has made particularly exciting explorations on 8mm and 16mm film, in cooperation with her editor, Eero Tammi and the award-winning foley artist Heikki Kossi (Sound of Metal, Ad Astra). The results have become a series of the most interesting experimental films of our time, which too rarely gets a place on the film screen where they belong.
---
Short film SHADOW CODEX screened in Rencontres Internationals in Paris
The Rencontres internationales festival will be held in Paris from May 2–8 2022. Saara Ekström's Shadow Codex will be screened in the programme "Corps glorieux", taking place in Beaux-Arts de Paris on Wednesday, May 4, at 16:00.
---
Short film SHADOW CODEX selected to the 5th Festival Internazionale Segni della Notte
The film Shadow Codex is selected for the International competition of Segni della Notte International Festival in Italy, Urbino between March 30th – April 3rd, 2022. The film is presented in the Cinema in Transgression program on 1.4 and 3.4. at 21:00 online.
---
A selection of films screened at SOLA-festival in Helsinki and KampusArt media art program in Turku
Saara Ekström's works can be seen in the spring both in Turku and in Helsinki. Ekström's work Beacon can be seen on the media wall of Turku AMK's EduCity as part of the Kampus Art media art program curated by the VAFT video art festival until April 28, 2022. The works of the media art program are shown on the media wall of Turku AMK's EduCity (Joukahaisenkatu 7, Turku) on Tuesdays and Thursdays around 11am-12pm. Ekström's art will be seen later in May as part of VAFT's screening program. In Helsinki, Ekström's three short films Amplifier (2017), Body All Eyes (2018) and Shadow Codex (2021) will be shown at the SOLA festival at Oodi library in August-September 2022. Admission to the advance club is free
---
SHADOW CAST BY TIME – a solo exhibition at Gallery Laikku, Tampere, Finland, 30.1.-21.11.2021
The Gallery of Culture House Laikku in Tampere, features an exhibition of two experimental films by Saara Ekström. The artist is known for her long career in using various media such as photography, film and installation.
---
SHADOW CODEX shown as a part of Next Level Shorts – screening at Love & Anarchy IFF, 16 – 26.9.2021, Helsinki, Finland
---
Villa Lante artist-in-residence, Rome, Italy
Happy to be granted a 3 month residency period at Villa Lante – Finnish Institute in Rome in October 2021. The projects here evolve around ceramic objects used in rituals and worship, and the presence of wildlife and chimeras in renaissance grotesque frescoes. The institute offers every year four prominent Finnish artists the possibility to complete projects and do research in a private studio, while simultaneously enjoying the unique location in the middle of Rome's historical and contemporary abundance. The Institute annually houses more than 200 students, researchers and artists. The Institute is located at Villa Lante al Gianicolo, a magnificent Renaissance villa acquired by the Finnish state in 1950.
---
Short film SHADOW CODEX screened in Mexico, Italy and Sweden
Shadow Codex (2021) is screened at several film festivals during September and October. It was selected for the "Experimental International Showcase Shorts Program" at Shorts Mexico, taking place online until September 30. Shadow Codex will also be screened at FLIGHT – Mostra Internationale del Cinema di Genova, the screening taking place on Tuesday, September 28, at 21:00 in Nickelodeon. In October, Shadow Codex will be screened at Lund Architecture Film Festival, taking place from October 15–17 in Sweden.
---
Artist in residence at ÖRES, Örö island in the Finnish Archipelago National Park.
Delighted to concentrate on new work for a month at the Öres residency in August 2021! ÖRES offers artists and researchers a chance to work in a unique natural environment in Finland. The facilities are located on Örö, a former military fortress island in the Archipelago National Park. The artists-run programme focuses on new and experimental fields of art, art-science collaborations and interdisciplinary projects.
Info
---
World premiere of short film SHADOW CODEX at CPH:DOX in NEW:VISION competition
CPH:DOX – Copenhagen Documentary Film Festival, Copenhagen, Denmark, 21.04 – 12.05.2021
"Primitive graffiti drawings appear as cave paintings from a collapsed civilization on the walls of an abandoned prison in Ekström's haunting b&w 16mm film."‍
https://cphdox.dk/cphdox-unveils-its-2021-competition-titles/
---
BIBLION exhibited at Les Festival Instants Vidéo
Les Festival Instants Vidéo – Mort,la vie te guette !, Marseille, France, 12.11.2020 – 3.1.2021
The French premiere for three-channel installation Biblion is taking place at the 33rd Festival Les Instants Vidéo in Marseille.
Since 1988 The festival Les Instants Vidéo has been an event dedicated to video, digital and poetic arts (monobands, installations, performances, multimedia), with stopovers in other spaces in Marseille and abroad.
---
BIBLION premieres at EMMA Espoo Museum of Modern Art
Biblion, EMMA Espoo Museum of Modern Art, Finland, 28.10.2020 – 15.4.2021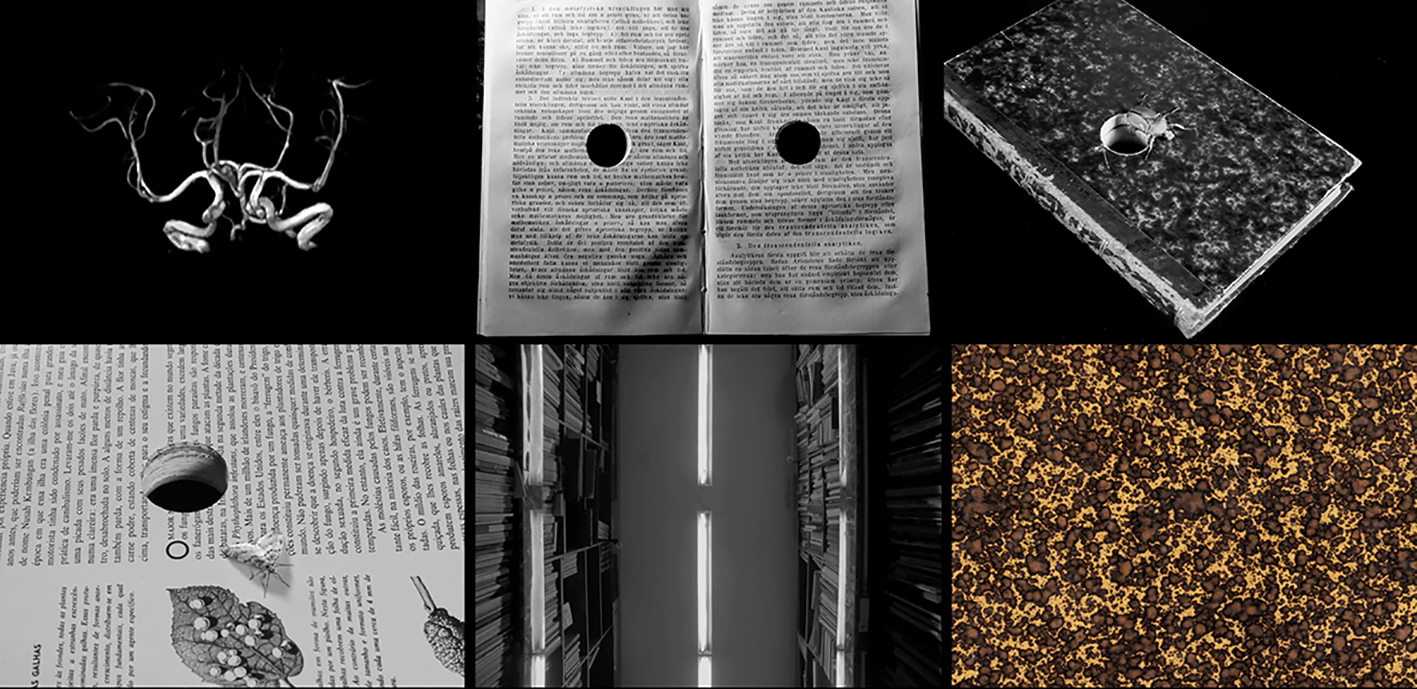 The new video installation Biblion (2019) by Saara Ekström and Eero Tammi is premiered in EMMA's media space in autumn 2020. The work examines the medium of the book, exploring its hypnotic and layered essence as a carrier of changing, growing and disappearing information. The weight of the masses of books ending up in libraries, second-hand bookshops, storages and landfills also represents the weight and legacy of our history – an irreplaceable treasure to one, an unwanted burden for another.
https://emmamuseum.fi/en/exhibitions/saara-ekstrom-eero-tammi-biblion/
---
Sight and Sound: Ekström & Kossi
film screening and talk at Love & Anarchy Helsinki International Film Festival, 24th September, 2020
At prestigious Love & Anarchy Film Festival, filmmaker Saara Ekström and award winning Foley Artist Heikki Kossi take a deep dive into the alchemistic relationship between sound and image. Striving to create unique, all-encompassing experiences, the artists have collaborated on four films, which for the first time are screened together.
---
Visiting artist at the Nordic House in Reykjavik, Iceland, September – October 2020
https://nordichouse.is/en/listamadur-i-heimsokn/
Filming new material in Iceland for VERTIGO, a work currently in production. The film will premiere in 2022 at Helsinki Art Hall in Finland.
---
Saara Ekström invited to Riihimäki competition for new public media art work
Riihimäki has launched a competition to create a public media art work in the centre of Riihimäki. The competition seeks a work proposal for a permanent public art work connected to the railway station, which, as an important platform for transportation and travel, played an central part in the birth, history and development of the city of Riihimäki. Artists Saara Ekström, Charles Sandison and Antti Tenetz as well as artist groups IC-98 (Patrik Söderlund and Visa Suonpää) and Pink Twins (Juha Vehviläinen and Vesa Vehviläinen) have been invited to participate. The competition period starts on July 1, 2020 and ends on November 16, 2020. The selected proposal will be announced on the 31 December 2020. The competition follows the competition rules of the Finnish Artists' Association.
---
MEADOW – exhibition curated by Taru Elfving
MEADOW, Fiskars, Finland, 18.6. – 30.8.2020
In the meadow, the slow evolution of the distinctive local ecosystem meets the accelerating planetary changes in all their unpredictability. The cycles of life and death of different species are entangled with the transformations of human cultures and technologies. The meadow intertwines the diverse rhythms of change: the geological deep time, the acute decrease in biodiversity, the myriad natural-cultural histories of symbiotic relations between humans and other animals, plants, microbes, and minerals.
The exhibition is curated by Taru Elfving and presents works from following artists: Eeva-Kaisa Ailus, Päivi Alajuntti, Upi Anttila, Luis Berríos-Negrón, Kirsti Doukas & Kristian Saarikorpi, Saara Ekström, FRAUD, Sergiu Matis & Antye Greie-Ripatti, Liinu Grönlund & Okku Nuutilainen, Antrei Hartikainen, Maarit Hirvonen, Tiina Karimaa, Erika Kelter & Kochun Hu, Ivan Kulvik, Matterlurgy, Laura Mattila & Mikko Merz, Jaakko Pakkala, Tuulia Penttilä, Milvi Pesari, Arja Renell, Kati Roover, Taru Samola, Vidha Saumya & Ali Akbar Mehta, Mirko Nikolic, Jonne Sippola, Åsa Sonjasdotter, Anna Ulff, Antti Yli-Tepsa, Katja Öhrnberg.
MEADOW website: https://onoma.fi/en/meadow/
---
Short film AMPLIFIER presented at Vita Kuben, Norrlandsoperan, Sweden
AMPLIFIER, Vita Kuben, Umeå, Sweden, 20.3. – 1.5.2020
https://norrlandsoperan.se/forestallning/saara-ekstrom
DIGITAL DYNAMICS features BEACON
An essay on the work Beacon commissioned by Tanya Toft Ag for the fascinating publication Digital Dynamics – Art's New Making. The expanded cinema event Beacon was produced by and for the Screen City Biennial – Ecologies Lost, Found and Continued 2019 in Stavanger, Norway.
http://digitaldynamics.art/beacon-2019/
---
AMPLIFIER and BODY ALL EYES competing at FLIGHT/ Mostra Internazionale del Cinema di Genova in Italy
FLIGHT – Mostra Internazionale de Cinema di Genova, Italy, 22. – 29.3.2020
The Mostra del Cinema di Genova, co-founded by Associazione Culturale 28 Dicembre and ACEC, is devoted to cinema as an art form. The festival privileges films with a poetic or visionary value and innovative languages, and gives equal importance to fiction and non fiction works, to features and shorts. The festival's Grand Prix, dedicated to Eadweard Muybridge (Grand Prix Pigeon Flying, Plate 755, 2500€) will be assigned to the Best Film regardless of genre, duration and theme. This year the festival focuses on the theme of Memory, meant in both the historical and introspective sense, collective or personal, a Memory of Cinema and a Cinema of Memory.
https://www.mostradelcinemagenova.org
---
Still Still Life, a curated exhibition at Sara Hildén Art Museum
Still Still Life, Sara Hildén Art Museum, Tampere, Finland, 1.2.–23.8.2020
Still Still Life presents an overview of the various forms of the still life in modern and contemporary art. The common factor uniting works in the exhibition is a conception of the still life and its essence. The exhibition includes works by among others, Jacob Dahlgren, Berlinde De Bruyckere, Saara Ekström, Erik Enroth, Susanne Gottberg, Juan Gris, Fernand Léger, Li Mingzhu, Heikki Marila, Giorgio Morandi, Inka Nieminen, Pablo Picasso and Anna Retulainen.
https://www.tampere.fi/sarahilden/en/index/exhibitions/still-still-life.html
---
BODY ALL EYES wins Best Experimental Film Award at Melbourne Short Film Festival
Body All Eyes wins the best experimental film award at its Australian premiere at the Melbourne SFF.
---
BODY ALL EYES competing at Festival de Cortos de Bogotá
BOGOSHORTS – Short Film Festival/Festival de Cortos de Bogotá, Colombia, 3.12. – 10.12.2019
Short film Body All Eyes competes for the best International Experimental Film Award at Bogoshorts in Colombia.
El lamento a los cielos, en la que los mitos arcaicos de volar a través del tiempo y el espacio chocan con un mundo tecnológico. Una atmósfera dominada por aviones y drones con un ojo que todo lo ve observando la tierra, un privilegio que perteneció solo a los dioses y sus mensajeros, los pájaros. Las asociaciones se mueven libremente, ya que lo trascendental y lo mecánico se enfrentan entre sí. Un acróbata enmascarado nos guía a través de un torrente de imágenes hacia el pasado y el futuro, el cielo y la tierra.
http://festival.bogoshorts.com/corto.php?int=XG3C6fwm3itmY0tDUvwBXG3C6fwm&cat=1$$-edEZPxyXmtmX0ZBYb3yXG3C6fwm&lint=1$$-1$$-qm4nNEHftmY0dDUL2CXG3C6fwm&tipo=1
---
Short film BODY ALL EYES nominated for award at the Melbourne Short Film Festival
Melbourne Short Film Festival, Australia, 10.1.2020
The Australian premiere of the short experimental film Body All Eyes will take place at the MSFF, where the film is also nominated for the best experimental film award.
---
Short film BODY ALL EYES screened at the Pori Film Festival
Pori Film Festival, Finland, 27.11. – 1.12.2019
---
Short film BODY ALL EYES exhibited at Les Festival Instants Vidéo
Les Festival Instants Vidéo – Numériques et Poétiques, Marseille, France, 25.10. – 1.12.2019
The French premiere for short film Body All Eyes is taking place at Les Instants Vidéo in Marseille.
Since 1988 The festival Les Instants Vidéo has been an event dedicated to video, digital and poetic arts (monobands, installations, performances, multimedia), with stopovers in other spaces in Marseille and abroad.
https://www.instantsvideo.com/blog/archives/category/accueil
---
New short film BIBLION competing at 23 Ji.hlava IDFF
Ji.hlava International Documentary Film Festival, Jihlava, Czech Republic, 24.10. – 29.10.2019
The world premiere of Biblion takes place at Ji.hlava IDFF competing for the Best World Experimental Documentary Film Award.
The darkly poetic short film Biblion is born on locations that seem to have become end stations and storages for the printed matter: antiquarian bookstores, libraries, letterpress houses and anonymous spaces filled with oceans of abandoned books. Running in three parallel images in black & white and colour, and complemented with an evocative soundtrack, the work creates a gravitational pull towards the dense and layered heart of the book. Rhizomes emerging from the fibres of paper, cosmic shapes in marbled covers and appearances in drops of ink are some of the elements in a spellbinding visual narrative.
https://www.ji-hlava.com
---
BEACON at Screen City Biennial 2019 – Ecologies Lost, Found and Continued.
SCREEN CITY BIENNIAL 2019, Stavanger, Norway, 17.10. – 30.10.2019
Screen City Biennial (SCB) in Stavanger, is the first Nordic Art Biennial dedicated to the expanded moving image. It presents artworks that explore the relation between image, sound, new technologies, public and digital spaces. The architecture of the Norwegian port city Stavanger facilitates an exhibition of new formats and the use of moving image in contemporary artistic practices.
Screen City Biennial 2019 – Ecologies – Lost, Found and Continued is curated by Daniela Arriado and Vanina Sarcino
Beacon, produced by and for the SCB 2019, is a 3 channel video performance and an expanded cinema event that intrudes into the urban cityscape. Filmed on 8mm film on the nature reserve areas and biological research stations in the Finnish archipelago, the Beacon illuminates disappearing habitats, along with the life that thrives in these endangered meadows, shores and forests. Projected with small, handheld projectors on buildings and the audiences' open palms, Beacon blurs the borders between small and massive events, shifting from observations on a microscopic scale to telescopic dimensions. The work muddles the line between the viewer and the projection, inviting us the hold the grainy, fragile and flickering worlds in the cup of our hand, and sensing the light they emit on our skin.
http://2019.screencitybiennial.org
---
THE NON-HUMAN ANIMAL at Uppsala Art Museum
The Non-Human Animal – Negotiation Bio-relations, Uppsala Art Museum, Sweden, 28.9.2019−24.11.2019
Rebecca Digby (Sweden), Lars Brunström (Sweden), Saara Ekström (Finland), Maureen Gruben (Canada), Gunnhildur Hauksdóttir (Iceland/Germany), Eva Klasson (Sweden), Lenore Malen (USA), Fredrik Strid (Sweden)
Eight artists working internationally present sculptures, videos, installations and photographs which in a variety of ways seek to renegotiate the relationship between human beings and other species. The exhibition offers scope for play, empathy and the expression of animalistic emotions, alongside reflections on how the divide between human being and animal is in a constant state of flux. The cultural shift that is emerging in the wake of climate change, and which is already resulting in species extinction and enforced migration, is urging us to enter into genuine ecological interplay. The works of art presented put our sensual perspectives, performability, pre-modern knowledge, and contemporary research as potential models to the test. We are also presented with the opportunity to lay bare our emotional processes and feeling of dejection as the new landscapes that are being shaped by climate change gradually evolve.
http://uppsalakonstmuseum.se/en/exhibitions/the-non-human-animal–negotiating-bio-relations/
---
MEASURED SILENCE presented in SILHOUETTES and SHADOWS exhibition at Kerava Art Museum
SILHOUETTES AND SHADOWS, Kerava Art Museum, Finland, 7.9.2019−5.1.2020
The exhibition leads us to the intriguing world of light and shadows with such contemporary artists as the South African William Kentridge, the German artists Andreas Kocks and Heike Weber, Randal Thurston from USA, and Saara Ekström, Ulla Jokisalo and Katri Kuparinen from Finland. The artists combine the traditional skill of cut outs and shadow images with contemporary expression and themes of memory, identity, ecology and politics.
Measured Silence by Saara Ekström and Thom Vink is an installation which combines 80 slides of the spellbinding and uncannily frozen dioramas at the Museum of Natural History in New York, with stickers picturing the birds and animals erased from the original slides. "Measured Silence" will be shown for the first time in the exhibition "Silhouettes and Shadows" opening at Kerava Art Museum on the 7th of September.
http://www.sinkka.fi/nayttely/siluetteja-ja-varjokuvia/
---
AMNION – solo exhibition at Ars Nova museum, Turku, Finland
AMNION, Aboa Vetus & Ars Nova – Museum of History and Contemporary Art, Turku, Finland, 14.6 – 3.11.2019
Ekström is known for her elegant photography and video works. During the last few years her focus has been on experimental filmmaking. The AMNION exhibition is centered and paced around works shot on black and white 8 mm cine film, which are supplemented by a range of new photographs and installations.
The polarities of nature and technology, cleanliness and filth and temptation and repulsion find a common ground in Ekström's art. This juxtaposition allows for a number of surprising associations and interpretations.
The worlds presented in these works are beyond any strict definition of time or place, but the examination of memory and oblivion at their core is keenly topical. Are we losing our way with nature? What links modern humanity to history?
The exhibition and the artist's work are supported by the Ministry of Education and Culture, the Finnish Cultural Foundation, AVEK and Youkobo Art Space.

https://www.aboavetusarsnova.fi/en/exhibitions/saara-ekstrom-amnion
---
BODY ALL EYES screened in Black Box Shorts – Entangled Realities programme at Edinburgh IFF
Edinburgh IFF, Scotland, 19. – 30.6.2019
Saara Ekström's Body All Eyes has been selected for the Black Box strand of Edinburgh International Film Festival, held from June 19–30. Inaugurated in 1947, Edinburgh International Film Festival is the world's longest continually-running film festival. Body All Eyes is included in the Black Box Shorts programme Entangled Experience, curated by Kim Knowles.
https://www.edfilmfest.org.uk/2019/black-box-shorts-entangled-experience/06-22_22-15
---
World Festival Premiere of short film BODY ALL EYES at Sheffield Doc/Fest
Sheffield Doc/Fest, Sheffield, UK, 6. – 11.6.2019
Body All Eyes (2018) will have its World Festival Premiere in the Official Selection of Sheffield Doc/Fest, held from June 6–11 in the UK. Doc/Fest is the UK's biggest documentary festival and the third largest in the world. The screening of Body All Eyes takes place on Sunday, June 9, at 21:30.
https://www.av-arkki.fi/english/sheffielddocfest19/
---
Short film AMPLIFIER screened at festivals
De Imagerie, Antwerpen
De Imagerie, short film screening, Het Bos, Antwerpen, Belgium, 24.5.2019
Suomalaisen elokuvan festivaali, Turku, Finland, 11.-14.4.2019
Amplifier featured in a program presenting Finnish experimental cinema curated by Mika Taanila.
---
Short film AMPLIFIER exhibited at Videonale.17 – Refracted Realities
Kunstmuseum Bonn, Germany, 21.2. – 14.4.2019
VIDEONALE.17 – Festival for Video and Time-Based Arts, which will be shown as from February 21, 2019 at Kunstmuseum Bonn raises a number of crucial questions explored in the exhibition, such as: How do we dialogue with one another today? Who speaks to whom and through which media? What reality (or realities) do we speak about and how do I recognize the reality of my interlocutor? And what artistic strategies are currently being developed to create alternative points of view, and to integrate new perspectives? Selected from over 1,100 entries from 66 countries, the works featured in VIDEONALE.17 address such questions in line with the festival theme of REFRACTED REALITIES.
https://v17.videonale.org/en/ausstellung/ueber-die-ausstellung
---
EARTH RIGHTS, Maan Oikeus, Landsrätten – group exhibition
Turku Art Hall, Turku, Finland, 2.2. – 25.2 2019
The newly established Turku Art Hall opens with the exhibition MAAN OIKEUS – LANDSRÄTTEN – EARTH RIGHTS curated by Taru Elfving. The exhibition shows works by Simo & Tuike Alitalo, Saara Ekström, Liinu Grönlund, Terike Haapoja, Harrie Liveart, Saara-Maria Kariranta & Jarmo Ilmari Somppi, Mari Keski-Korsu, Lasse Lecklin, Sari Palosaari, Arja Renell, Leena & Oula Valkeapää.
http://www.turuntaidehalli.fi/maan-oikeus–landsraumltten-22-2422019.html
---
---
Short film AMPLIFIER broadcast in Finnish television YLE Teema and YLE Areena 2018 – 2019
Kokeellisessa lyhytelokuvassa menneisyyden kaiut kiertelevät Helsingin Olympiastadionin autiolla areenalla. Arkkitehtuuri ja ihmiskeho, historia ja ajan paino punoutuvat aistimukselliseksi kokonaisuudeksi. Tanssija Heikki Vienola, taikuri Robert Jägerhorn. Ohjaus, kuvaus ja tuotanto Saara Ekström, 2017. Mv. (U)
https://areena.yle.fi/1-4400939
---
BODY ALL EYES screened at Rex Fest
Rex Fest will bring the latest in media art to the Bio Rex screen in Helsinki in November 2018. A collaboration between Amos Rex and the media art centre AV-arkki, the event will include curated screenings, live cinema performances and a cine-concert. The festival programme will present new works produced in the last few years, which together will provide an overview of Finnish media art here and now.
https://amosrex.fi/en/tickets/rexfest-colours-and-borders/
---
AMNION – solo exhibition at Youkobo Art Space
Youkobo Art Space, Tokyo, Japan, 3.11. – 23.11.2018
In the 8 mm film AMNION ( a thin membrane surrounding the embryo) filmed at Youkobo Art Space in Tokyo, images of synthetic and organic materials blend and plastic becomes a part of our DNA.
http://www.youkobo.co.jp/en/exhibition_events/2018/10/amnion-by-saara.html
---
AMPLIFIER at Pori Film Festival
Pori Film Festival is a film festival and happening that celebrates the diversity of cinema. Pori Film Festival is looking for interesting experiments, energetic expressions, essayistic beauty and sharp-minded manifestations that reveal the overwhelming capability of the audiovisual medium to create and investigate realities.
https://www.porifilmfestival.fi/language/en/porifilmfestival-2/
---
Videoteos GROTESQUE & ARABESQUE Musiikkitalon mediaseinällä joulukuussa 2018
AV-arkki, Nykytaiteen museo Kiasma ja Helsingin kaupunginorkesteri tuovat kotimaista videotaidetta Musiikkitalon mediaseinälle. Pohjoismaiden suurimmalla digitaalisella näytöllä nähdään kuukausittain vaihtuva videoteos juuri ennen alkamassa olevaa HKO:n konserttia. Syyskauden taiteilijat ovat Vappu Rossi, Antti Laitinen ja Saara Ekström sekä sarjan perjantaina 7.9. avaava Timo Wright. Kunkin taiteilijan teosta esitetään mediaseinällä nonstop-muotoisesti kymmenen minuutin ajan. Julkisessa kaupunkitilassa nähtävä Visuaalinen alkusoitto tarjoaa uuden foorumin videotaiteelle ja johdattaa samalla yleisön illan konserttiin.
https://helsinginkaupunginorkesteri.fi/fi/uutiset/visuaalinen-alkusoitto-musiikkitalon-mediaseinalla
---
AV-Arkki's distribution catalogue 2018-2019
The experimental short film, BODY ALL EYES, is selected for AV-Arkki's distribution catalogue for 2018–2019, which is now available online!
http://www.av-arkki.fi/en/news/catalogue-18-19-launch/
---
Meet the artist
Meet the artist Saara Ekström in a series of interviews made by AV-arkki, the Distribution Centre for Finnish Media Art.
http://www.av-arkki.fi/en/news/artist-ekstrom/
---
BODY ALL EYES – solo exhibition
SINNE Gallery, Helsinki, Finland, 8.9.–14.10.2018
The exhibition and 8 mm film titled BODY ALL EYES, combines cultural history with evolution, anthropology, technology, sound art and contemporary dance. Through various approaches the work links the past with the present, and forms a multi-layered interpretation of a fusion between humans, birds and mechanics.
http://sinne.proartibus.fi/en/event/body-all-eyes-3/
---
AVEK-award 2018
Visual artist Saara Ekström receives the AVEK Award for media arts.
http://sinne.proartibus.fi/en/event/body-all-eyes-3/
---
AMPLIFIER competing in Film Festivals
Short film AMPLIFIER is selected for the competitions of Videomedeja film festival, Serbia, 31.8. – 2.9.2018, DocumentaMadrid – 15th International Documentary Film Festival, 3. – 13.5.2018, Spain and 16th IFF Pacific Meridian, Vladivostok, Russia, 21. – 27.9.2018.
http://videomedeja.org/category/videomedeja-2018/screening-2018/?lang=en
---
NO ORDINARY MOMENTS – collection exhibition
EMMA, Espoo Museum of Modern Art, Finland, 11.4.2018–6.1.2019

No Ordinary Moments is a group exhibition featuring recent acquisitions from EMMA's collections. The show presents a selection of surrealist-inspired contemporary works celebrating small, everyday miracles. The featured exhibits have an uncanny, otherworldly quality that transcends daily reality and plunges into the depths of the subconscious and unconscious mind.
https://emmamuseum.fi/en/exhibitions/no-ordinary-moments/
---
AMPLIFIER – solo exhibition
RAPPU, Pori Art Museum, Pori, Finland, 13.2.–8.4.2018
A short film in which a dancing man breaks free from the monumental structures of an abandoned Olympic stadium. The distant echoes resonating in the desolate sports arena, travel through his limbs and spill into this very moment. Their message is this: when time and space speak, listen. As stones and pillars crumble, sound is the first and the last thing moving in your body.
---
Art Prize of Southwest Finland, 2017
Saara Ekström recieves the Finnish Arts Promotion Centers Art Prize in 2017.
http://www.taike.fi/fi/uutinen/-/news/1202068
---
AMPLIFIER – solo exhibition
Gallery Hippolyte, Helsinki, Finland, 1.9.–24.9.2017

In Saara Ekström's film Amplifier the Helsinki Olympic Stadium represents a historical paradigm shift. Completed in 1938 the building outlines pure functionalist architecture and stands as a landmark for optimistic utopia and the oblivion of man's neglect of history.
http://www.hippolyte.fi/saara-ekstrom-amplifier-2/?lang=en
---
Korjaamo Stage Festival
Korjaamo, Helsinki, Finland, 21.9.–28.9.2017

Mika Vainio, the pioneer of electronic music, is honoured in a tribute film screening in Helsinki at Korjaamo Stage Festival. The screening includes three films for which Mika Vainio composed original films scores: A Physical Ring (Mika Taanila 2002), Phantasma (Saara Ekstrom 2016) and Mannerlaatta (engl. Tectonic Plate). Q&A moderated by Kari Yli-Annala
---
NATURE MORTE – curated exhibition
Guildhall Art Gallery, London, UK 7.9.2017–2.4.2018

Leading artists of the twenty- first century are reinvigorating the still life, a genre previously synonymous with the sixteenth- and seventeenth-century Old Masters. Michael Petry's careful curation of this exciting revamp celebrates works by emerging and established artists alike.
http://www.artlyst.com/previews/nature-morte-contemporary-still-life-explored-guildhall-art-gallery/
---
ABUNDANCE and EPHEMERALITY – curated exhibition
Kadrioru Kunstimuuseum, Tallinn, Estonia, 21.01.–14.05.2017
http://kadriorumuuseum.ekm.ee/en/syndmus/abundance-and-ephemerality-still-lifes-from-collections-in-finland-and-the-baltic-countries/
---
NATURE MORTE – curated exhibition
Four Domes Pavilion, National Museum in Wroclaw, Poland, 19.01.–14.05.2017
http://pawilonczterechkopul.pl/en/exhibitions/temporary-exhibition/
---
Kiasma's Collection Exhibition
Kiasma – Museum of Contemporary Art, Helsinki, Finland, 22.04.2016–29.01.2017
http://www.kiasma.fi/en/exhibitions-events/kiasman-kokoelmanayttely/
---
LUSCIOUS THRILLS, Baroque reflections then and now – curated exhibition
GL Holtegaard, Holte, Denmark, 26.08. – 30.12.2016
http://www.glholtegaard.dk/vanitas-english.html
---
ALCHEMY – solo exhibition
Bildmuseet, Sweden, 12.6.–4.9.2016
http://www.bildmuseet.umu.se/en/exhibition/saara-ekstroem/22266
http://www.finnishartagency.com/saara-ekstroms-alkemi-bildmuseet-umea/
---
NATURE MORTE – curated group exhibition
Bohusläns Museum, Sweden 7.5.–28.8.2016
http://www.bohuslansmuseum.se/en/utstallningar/nature-morte/
http://www.artlyst.com/articles/seventy-artists-reinvigorate-the-still-life-in-nature-morte-traveling-exhibition
---
GROWTH
Fiskars, Finland, 14.5.–24.9.2016
http://www.fiskarsvillage.fi/en/see_and_do/changing_exhibitions/growth
---
ALKEMIA – solo exhibition
Wäinö Aaltonen Museum, Turku, Finland, 5.2.–24.4.2016
http://www.finnishartagency.com/a-long-awaited-solo-exhibition-by-saara-ekstrom-at-waino-aaltonen-museum-of-art/
https://www.hbl.fi/artikel/de-vackraste-av-nycklar/
https://www.turku.fi/waino-aaltosen-museo/nayttelyt/menneet-vuodesta-2000-alkaen
---
Saara Ekström, Skala 1:1
Atalante, Gothenburg, Sweden, 8.9.–2.11.2014
http://atalante.org/projects/skala-11-saara-ekstrom/
---
ISCP – International Studio & Curatorial Program, New York, USA
Ekström starts her 6-month artist-in-residence period at ISCP in July 2014. ISCP is a residency-based contemporary art institution in New York that aims to support international exchange between artists and curators. The Finnish Cultural Institute collaborates with the Alfred Kordelin foundation in enabling residencies for Finnish visual artists.
---
---